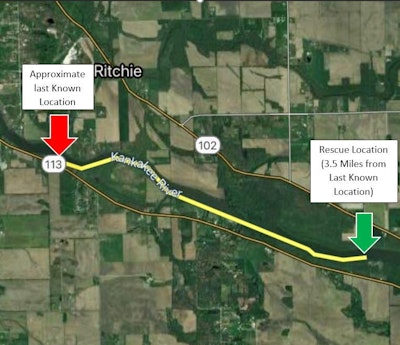 Missing Person Successfully Found
Sunday | February 14, 2021
Missing person along the river found
At 0352 this morning, LTFPD was requested by Custer Park Fire Department to assist with the search for a missing snowmobiler on the Kankakee River.

Limestone Car 2102, Ambulance 25, Brush 28, and the Air Boat responded to the Warner Bridge boat launch. Upon arrival, LTFPD crews found access to the boat launch at Warner Bridge Road to be blocked by barricades and large snow piles. Limestone units decided to relocate to the Kankakee State Park boat access, located approximately three miles west of Warner Bridge Road on 113. Once there, Limestone crews were able to force entry through a gate to gain access to the boat ramp.

Limestone crews encountered snow measuring 10 – 12 inches in depth along the entire access, up to and including the boat ramp itself.
Crews immediately began preparing for a launch of the Air Boat. Weather Conditions on-scene were extremely dangerous, with temperatures at -6 and wind chill at -20. The river was noted to be completely frozen over, but the air boat's launch was still possible, thanks to its ability to ride over the ice.

At 0438, LTFPD personnel were able to locate the missing person walking along the river near the boat launch. The subject was immediately removed from the elements, placed into a vehicle, and evacuated from the boat ramp to Ambulance 25 on 113. The subject was transported to a local hospital in stable condition.

From the time of our dispatch till the location of the missing subject totaled just 46 minutes.

This incident required the collaborative effort of many entities, including Custer Park Fire Department, Wilmington Fire Department, Limestone Township Fire, Riverside Ambulance, Illinois Conservation Police, Will County Sherriff's Police, Wilmington Police, Superior Helicopter, IDOT, Lincoln-Way Dispatch, and KanComm. Thanks to the quick decisions made by Custer Command and the professionalism and prompt response of all entities involved, a life was saved.

Excellent work to everyone involved tonight!